Interior Design Magazine / April 2010 / New Products - Duet / Online Editorial
Interior Design Magazine / April 2010 / New Products - Belle / Online Editorial
Interior Design Magazine / March 2010 / New Products - Panzee / Online Editorial
Michelle Kaufmann / July 2008 / Star Quest / Blog
Haute Nature / April 2008 / Star Quest / Blog
The New York Times / March 13, 2008 / Topography as Art, Underfoot / Online Editorial
"Famous Canadian Mountains, a line of 10 canvas rugs based on topography, was recently introduced by Patricia M. Baun, A Vancouver designer who owns a company called Maude Decor... "Topography offered variations in proportion, design and shape that were highly irregular without being contrived", she explained. Although when most people think of painting mountains, they think of something more pictorial, her rugs are abstract."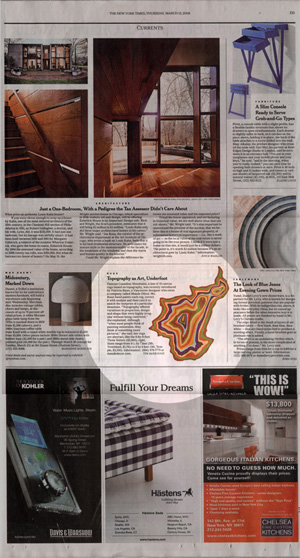 If It's Hip, It's Here / March 2008 / Star Quest / Blog
Visualize Whirled Peas / March 2008 / Star Quest / Blog
Inventor Spot / March 2008 / Star Quest Constellation Carpets Are Out of This World / Blog
Design Spotter / March 2008 / New Rug Collections by Maude Decor / Blog
Moco Loco / February 2008 / Star Quest / Blog
Apartment Therapy / January 2008 / Blog
VLM / November 2007 / On The Carpet
"Patricia Baun's signature canvas rugs are no mere doormats. The Vancouver designer's hand-painted floor coverings broke new ground with Baun's use of vibrant colours, patterns and fine art inspirations. "How do you make a floor sing? she rhetorically asks..."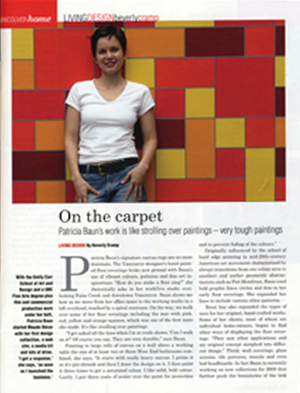 Chesapeake Home / November 2007 / Art on the Floor
"Maude Décor, Jules"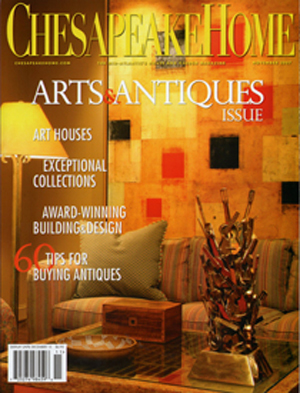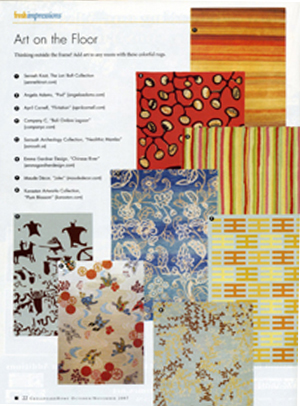 Blueprint / September - October 2007 / The Guide To Buying an Area Rug
"This fantastic graphic pattern is hand-painted onto a strudy canvas mat."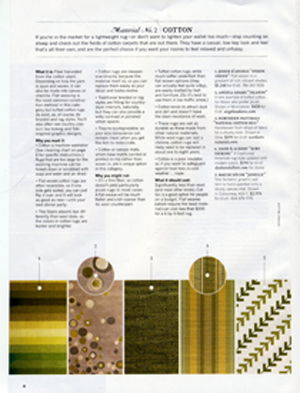 Canadian House & Home / March 2007 / Style Files
"With her hand-painted canvas rugs, Vancouver's Patricia Baun put modern art right under buyers' toes... Baun sees a bare floor as an opportunity to inspire. Using bold palettes and striking geometric designs, she has been contemporizing the centuries-old art of hand-painted canvas rugs since 2002."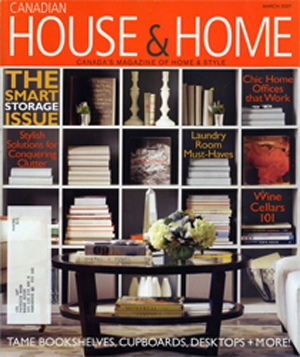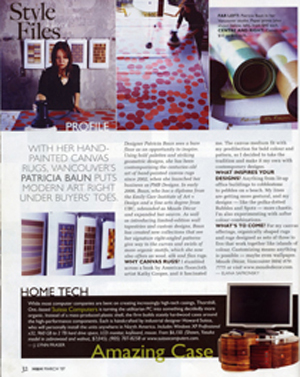 Georgia Straight Living / Spring 2007 / Art Underfoot
"Well ahead of the curve, Baun has been creating painted canvas rugs since 2002. New this season, she says, is a series on famous Canadian mountains, Mount Robson, the Three Sisters, and Mount Logan among them. Designed along the lines, literally, of topographical maps, they range in palette from vibrant shades to subtle tonal variations."